Founder of BGK, Daionshi Sensei
Life of the Founder of Bussho-Gonenkai (Daionshi Sensei)
On January 15, 1897, Daionshi Sensei, Mr. Kaichi Sekiguchi, the founder and first president of Bussho-Gonenkai, was born in Suibara-cho, Kitakanbara-gun, Niigata Prefecture (present day Agano City). His childhood was not blessed with parental love due to the separation from his birth mother and his father's remarriage. At the age of 14, he graduated from high school and decided to leave for Tokyo in search of a job with the determination to acquire special skills and technique. He worked hard during the day and continued his studies at night in order to prepare for his future independence. Six years later, he became a full-fledged businessman. When the Great Kanto Earthquake struck, in the wake of reconstruction he decided to start his own business with his acquired skills. In 1924, at the age of 26, as his business started to pick up, he married a native from his hometown who would later become the second president of Bussho-Gonenkai, Mrs. Tomino Sekiguchi, hereon referred to as Tomino Sensei.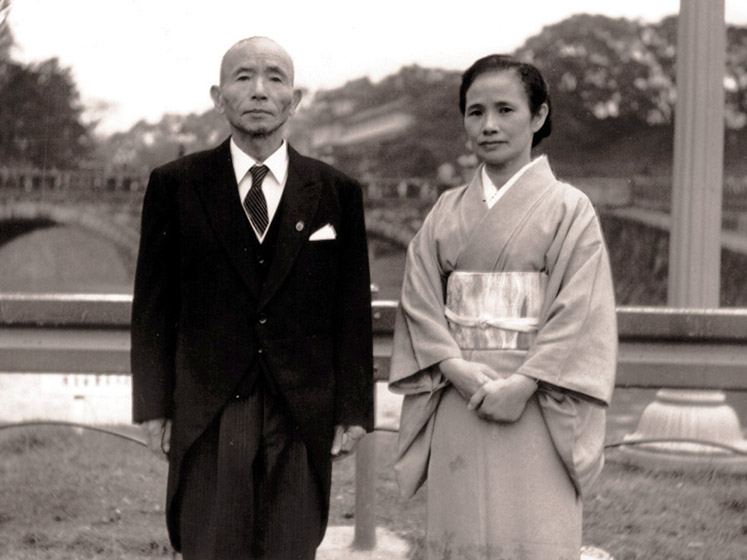 In 1933, it was Tomino Sensei who first encountered the Lotus Sutra through a Buddhist organization named Reiyukai. She experienced multiple spiritual phenomena which convinced Daionshi Sensei enough to become a member himself at the age of 36. The couple devoted themselves to spreading the teachings and in a period of three years, they recruited 20,000 families to join the organization under their guidance. The couple would eventually be employed by the headquarters of the organization but after several scandals arose within the group, the couple resigned after their attempts at reform were hindered. Many members pleaded to Daionshi Sensei to continue to guide them through the Lotus Sutra, so they finally decided to establish a new Buddhist organization. It was at this time when they heard the gods relay the following message:
You shall establish a new Buddhist organization.
The Buddhas will provide unconditional support.
However, if your actions become driven by greed, we will immediately withdraw our support.
The name of the organization shall be "Bussho-Gonenkai."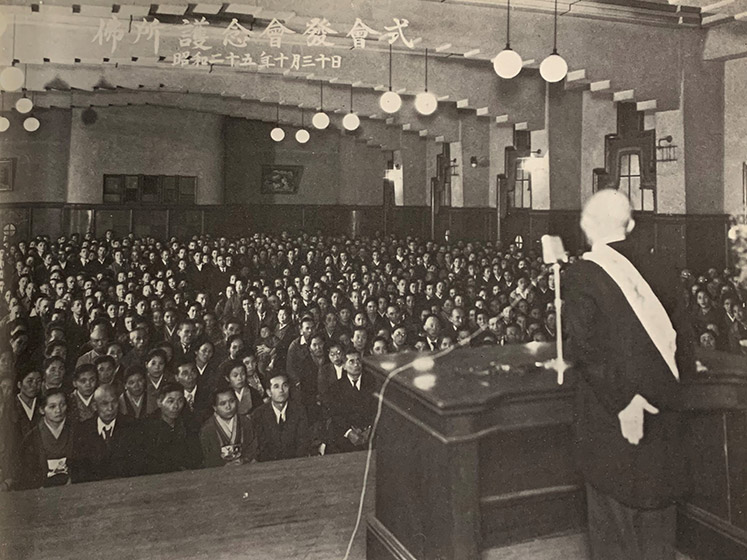 With the determination to never be driven by greed, the basic policy for the operation of the organization would be to not accept donations even though many religious organizations rely on monetary contributions from their members, which is permitted by law. It was decided that the organization would be managed only through a monthly membership fee of 10 yen (presently 300 yen) per household. On October 30, 1950, the opening ceremony of Bussho-Gonenkai was held at Shitaya Kokaido Assembly Hall in Tokyo.
At the time of its establishment, there was no place for the members to gather, which led Daionshi Sensei to open up his own home as the temporary Headquarters. He devoted all his time to the Lotus Sutra and traveled throughout Japan to spread the teachings. He used to say, "It is my job to explain the teachings to those who do not understand and guide those who are in need of salvation. My work will never end if I do not make these efforts."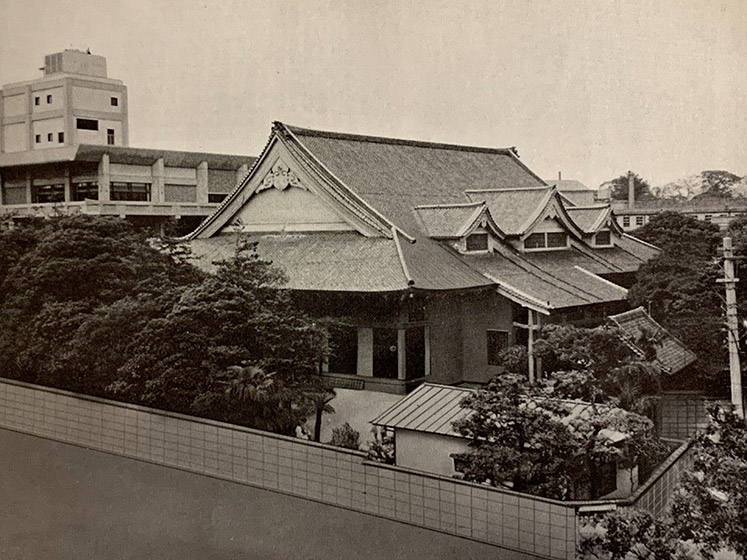 A year after the organization was founded, the annual Ise Shrine and Mt. Minobu pilgrimages started. Daionshi Sensei and Tomino Sensei traveled all over Japan to provide lectures and spread the teachings. At the same time, the desire to have an assembly hall became very strong among the members. In 1953, with over 23,000 members volunteering to take part in the construction, the Headquarter assembly hall was finally built.
In 1955, Daionshi Sensei mentioned in a Bussho-Gonenkai newsletter titled "Life," that "We should not take for granted that we were born as human beings. If we live and end life having no purpose, life would be worth less than those of animals. The ultimate goal of life is to be enlightened. Our daily life serves as a training ground to learn the path of Buddhism. If you are born with negative karma, you face many difficulties. Because you face difficulties, you are troubled. But those troubles help you reach enlightenment." This speech still serves as an important guidance for the members to understand Buddhism.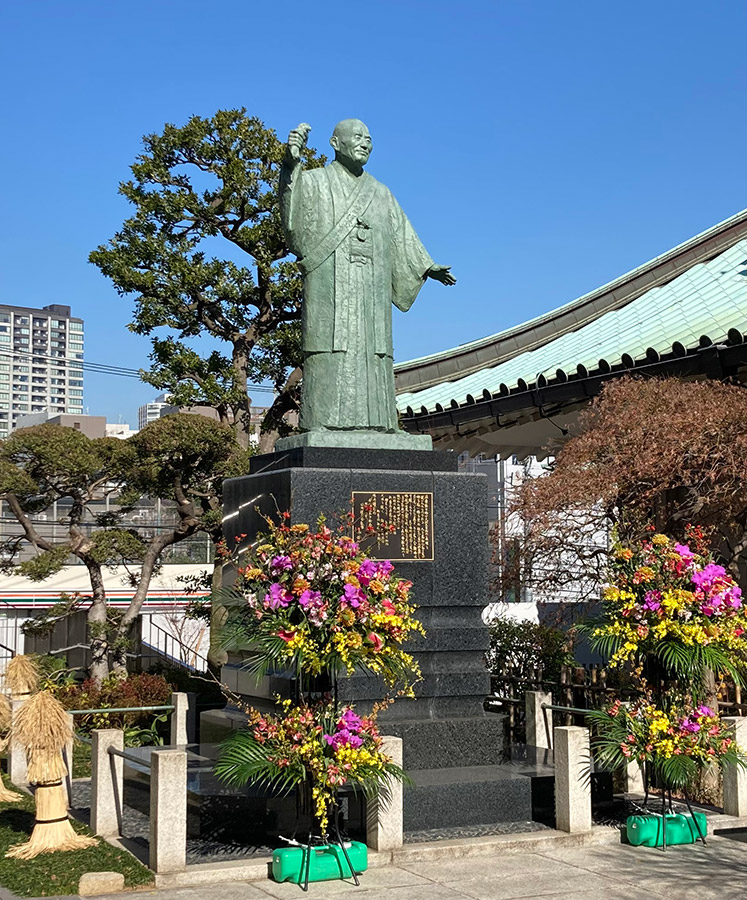 For 11 years since the founding of Bussho-Gonenkai, Daionshi Sensei devoted his life wholeheartedly to solidifying the foundation of the organization. He did this by opening district churches in Aomori and Utsunomiya Prefectures, as well as establishing the Youth Division as a way to guide the next generation. On April 7, 1961, Daionshi Sensei passed away at the age of 65. At Bussho-Gonenkai Headquarters, there is a bronze statue of Daionshi Sensei made by artist Seibo Kitamura with an inscription by Tomino Sensei that is engraved on the pedestal. Daionshi Sensei left behind a noble spirit that has flourished all over Japan and abroad and today continues to live on as a source of inspiration for our members.